Singapore is a cosmopolitan city, with bright lights and dazzling skyscrapers built to impress. The "Lion City", as it is called, boasts a rich variety of culture to visiting tourists. Singapore has 3 main areas that are iconic culture hubs in our multi-racial city.
Chinatown is lodged in the centre of the city. Easily accessbile via train, you will get to experience traditional Chinese cuisines like Bak Kwa (roasted pork) and Bak Hu ( pork floss). There are also many shops selling traditional Chinese lanterns and other keepsakes. Do make sure to visit during January to February, where the locals will be celebrating the much-anticipated annual Chinese New Year.
During this time, Chinese families will visit their relatives to pay respect to their elders and catch up with one another. This festival has also a unique tradition, where married adults give red packets filled with some money to their single relatives. This is also where most of the young ones get their savings annually! Besides this there is also the exchange of oranges between families, which symbolizes good luck and prosperity for the rest of the year! If you do happen to be in Singapore during Chinese New Year, take a walk down Chinatown as it will be bustling with activity, with streets and corners bursting with ornaments and decorations.
Close to the proximity of Chinatown, Little India is another well-known heritage hub, where you can immerse yourself in the Indian culture. You will find an array of shops selling different exotic herbs and spices that the Indians enjoy adding into their home-cooked dishes. Buy some spices back home to impress your friends and family! These spices tickle your tastebuds by adding a distinct flavour to your food, not to mention the fact that they are extremely photogenic.
Do come in time for Diwali, or its more affectionate name Deepavali, which is the Hindu festival of lights, celebrated every ear in autumn, which is around October in Singapore. This festival, abundant with sound and color, symbolizes the triumph of light over dark, and good over evil. The local Hindus in Singapore will celebrate Deepavali with numerous prayers, food and sparklers. Take a walk down Little India during this period and join in the festive spirit!
Lastly, we have Kampong Glam, which is a district dedicated for the Malay population in Singapore. Located near the Singapore River, this district boasts a plethora of traditional shophouses selling local goods. Easily recognized, the Masjid Sultan Mosque remains a major landmark of Kampong Glam. Local Muslims congregate near the mosque to pray daily. With an assortment of eateries and restaurants offering Arabian and Muslim food, you will be spoilt for choice! Do visit during Hari Raya, the Muslim festival, where local Muslims in Singapore fast for one entire month. With its old charm, great shops and wonderful cultural sights, Kampong Glam is a must-go for the first timer to Singapore.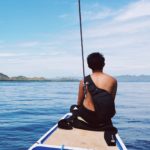 A travel blogger and freelance writer