The Lion City not only boasts a rich culture, which you can read about in my previous article, but also has a great variety of sights and attractions to woo you over.
Iconic Marina Bay Sands
Let's start with the iconic Marina Bay Sands, which has garnered quite an amount of international attention when it first opened to the public. It started off first with the Marina Bay Sands Hotel, which is equipped with a luxurious infinity pool at the top of 3 55-storey towers. Swimming in the pool with a cocktail in hand, while enjoying the splendid Singapore skyline, has got to be one of the things on your bucket list!
Not only that, the Marina Bay Sands district offers a plethora of shopping outlets that will stun even the seasoned shopaholics. With high end labels like Gucci and Louis Vuitton to more local brands like Pedro and Charles & Keith, you can find almost something to suit your shopping tastes.
Since then, the Marina Bay Sands district has evolved. The government has put in quite a number of resources to build the fantastic and magnificant Gardens By the Bay. From afar, you can spot the gargantuan SuperTrees that tower over the district. These Supertrees serve as vertical gardens that have dual functionality – to provide shade in the day and an enjoyable display of lights and music at night.
This 101-hectare awe-inspiring garden also boasts 2 amazing attractions, the Flower Dome as well as the Cloud Forest. The Flower Dome is a spectacular and innovative attraction which boasts an amazing display of flowers and plants from the Mediterranean and semi-arid regions around the globe. Be awed by the scents when you enter this aromatic dome! The Cloud Forest will leave you speechless, with diverse vegetation and floral gems surrounding you as you walk towards the central waterfall, which sends out a misty atmosphere through the entire conservatory.
After exploring this central part of Singapore, walk down to Orchard Road, where glitzy shopping malls and shopping districts are located. This massive sprawling array of shopping complexes will dazzle and delight, with all sorts of goods to be found and purchased. While you're here, try to take note of a fun fact we have.
The rain trees in Orchard Road actually have a bird hierarchy of sorts, with the mindless pigeons at the bottom, followed by mynahs in the middle, and the clever crows at the top of the branches.
After you've burnt quite a bit in your wallet, you might find it refreshing to engage in some free and fun activities. Head down to one of our plentiful parks, where you can connect with nature and explore a more local side of Singapore.
My suggestions would be the HortPark and Punggol Waterfront Park. Just a tip, Punggol Waterfront Park is situated close to our little islet, known as Coney Island. It was just opened recently, so rent a bicycle and explore this little charm that is seldom frequented by tourists.
A trip to Sentosa
Lastly, who can visit Singapore without a trip to Sentosa? Our precious slab of land, located south of Singapore, boasts pristine beaches like Siloso Beach and Palawan Beach. Bring along a frisbee or volleyball and utilize the free faciltiies we have at the white sandy beaches! If you're a history buff, you can also visit the old cannons and forts at Siloso Fort! We also have our local Merlion statue at Sentosa, where laser lights beam out of its eyes at night to reach across to Mainland Singapore. Take a life up to its "eyes" and be awed by the views!
Singapore is a fantastic destination and offers a wide variety of sights and attractions to the typical tourist. This cosmopolitan city strives constantly to build up its tourist industry and that's why you should definitely make it a destination on your bucket list!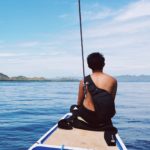 A travel blogger and freelance writer