About the Kobe Farmer's Market
Nearly every Saturday morning, local farmers from the northern and western areas of Kobe come to Higashi Yuenchi Park near Sannomiya Station in Kobe to showcase their seasonal fresh fruits and vegetables. An organization called EAT LOCAL KOBE cordinates the market and works to promote locally-sourced and organic produce for Kobe residents and tourists. There are also a wide variety of small businesses selling carefully crafted baked goods, oils, pickled products, tofu, and even farm-fresh eggs!
Cooking demonstrations teach visitors how to cook with the vegetables from the farmer's market
Occasionally, shop owners or other outside guests will put on cooking demonstrations. For example, a chef from a local Spanish restaurant taught visitors to make fresh roasted salsa with Japanese cilantro (パクチー) and tomatoes bought directly from the market. On another day Barbara san, a 30-year German resident of Japan, demonstrated how to make a special stew from a German recipe that was 400 years old!
Seasonal fruits that cannot be found in typical Japanese grocery stores
One of the highlights of the Kobe farmer's market is discovering new fruits and vegetables. At Murata san's vegetable stand in the fall season, a special fruit called a ground cherry (酸漿) is available. This small, grape-sized tomato-looking fruit is enclosed by brown leaves – nature's way of packaging this delectable treat. In the spring, Murata san sells white strawberries shaped like a chestnut (栗), which smell and taste like a peach!
Food you can trust, an ethos to protect the environment, and kid-friendly!
Visitors meet the farmers, bakers, and shop owners and discuss the food they're buying. This ensures a high level of quality, trust, and value in the products being sold. There are no trashcans in the park, so please return tableware to the shops directly for recycling. There are children's books and games to entertain the little ones.
Coffee! Yes, there is coffee! And hot breakfasts that rotate each week.
There are three or four different shops that sell hot coffee from some of the best shops and grinders in Motomachi and Sannomiya. Hot breakfasts range from vegetable Thai curries to stews of wild boar (猪) found locally in the Kobe hills to grilled Kobe beef (牛). After breakfast don't forget to sample scones, cookies, and cakes from some of Kobe's delicious patisseries or salty gelato topped with tomato jam from a pair of Frenchman who sell weekly at the market.
Directions to the Kobe Farmer's Market
From Sannomiya station, walk south along the Flower Road past Kobe City Hall to Higashi Yuenchi Park. The farmer's market is past the fountains on the west side of the park underneath the trees.
| | |
| --- | --- |
| Place: | Yuenchi Park along the Flower Road near Sannomiya, Kobe |
| Time and Date: | Most Saturdays from 9:00 am to 1:00 pm (summer) and 10:00 am to 1:00 pm (winter) |
| Website: | eatlocalkobe.org |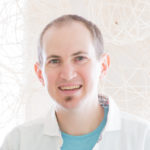 Scientist and writer living with his wife and daughter in Kobe, Japan