An Introduction to Ca Sento
Ca sento is an upscale Spanish restaurant in a quiet part of Kitano north of Sannomiya in Kobe, Japan. There are more than 50 restaurants in Kobe that have been awarded Michelin stars, but only one has three stars – the highest rating given by the Michelin guide and coveted by chefs around the world. Ca sento is run by famed head chef Shinya Fukumoto. When Shinya Fukumoto received his 3 stars from Michelin, he became the youngest to chef to have 3 star Michelin restaurant in Japan. Chef Fukumoto apprenticed in Spain for four years in his early twenties and returned to Japan at the age of 28. He opened Ca Sento few years later at the age of 33.
We visited Ca Sento in early March 2017 to see just what all the fuss was about.
First impressions of Ca Sento
Ca Sento is on a quiet, non-descript street in a northern neighborhood of Kobe. Part of the kitchen is visible from outside the restaurant and at the time of our 6 pm seating, it was immaculate and empty. A small wood-burning fire in the grill could be seen and an attentive hostess beckoned us inside. After seating and ordering a glass of Sauvignon Blanc, our host explained that she will describe the details of each dish in both English and Japanese as they are served.
The cuisine at Ca Sento mixes Spanish-style cooking with fresh Japanese ingredients
Ca Sento serves traditional Spanish dishes like a giant kaki (oyster) resting on a mound of sea salt, anchovy tapas embedded in parmesan, and Spanish Morcilla (blood sausage) dolloped with mayonnaise. But, we also tasted entrees inspired from local Japanese ingredients. The main course was deer steak from Hokkaido followed by a tomato-based okayu (Japanese rice porridge) sprinkled with bits of inoshishi (wild boar) from the hills of Kobe. The meat and tomatoes complemented by a glass of Spanish Tempranillo Rioja wine.
Desserts that take inspiration from the seasons
Summer was ichigo (Japanese strawberry) and crème fraiche. Fall was butternut and kabocha (Japanese pumpkin)-infused ice cream. Winter was snow white meringue crackers. But, the most unusual dessert was spring. Smoked mikan (Japanese tangerine) mousse was served in a clear glass orb with flecks of mikan peel attached inside. Lifting the lid released a perfume of citrus and smoke, creamy and delicious. Our visit to Ca Sento was like journey to an old Spanish inn warmed by a roaring hearth, but with sentiments and flavors of the Japanese sea and countryside.
Directions to Ca Sento
Ca Sento is a five-minute walk northeast of Kencho-mae subway station, but also may be reached by a 30-minute walk from the main train stations in Sannomiya. After dinner, the hostess can arrange for a taxi pick-up outside the restaurant upon request.
| | |
| --- | --- |
| Address: | 4-16-14 Nakayamatedori, Chuo-ku, Kobe 650-0004, Hyogo Prefecture |
| Phone: | +81 78-272-6882 |
| Website: | http://casento.jp/ |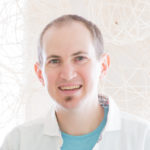 Scientist and writer living with his wife and daughter in Kobe, Japan