In June 2017 I found myself with the once in a lifetime opportunity to carry out some archaeological work at the villas around Pompeii; this was particularly exciting for me, not just because of the nature of my work but because I'd never been to Italy before! When it came to planning the trip it turned out much cheaper to fly to Naples a couple of days before I started work, giving me an entire weekend to kill- which wasn't something I could really complain about seeing as I was going to be exploring a new country in this time. It wasn't until a bit later on, when the excitement of the adventure had started to set in, that I had an idea- I could hop over to Naples any time while working in Pompeii so why not go a little bit further out and visit Rome first! In hindsight it would have made more sense to fly to Rome in the first place but the flights were already booked and the journey between Naples and Rome is remarkably short and simple anyway (Roughly 2 hours 40 by bus, 1 hour 30 by train) so why not? I booked an afternoon bus leaving a few hours after my flight arrived and a night bus returning at 11:45pm the next day.
Lots of people would be appalled by the fact that I tried to fit such an iconic and beautiful city into just over a day's visit, but for me the decision was easy. 24 hours in Rome is better than 0 hours in Rome! When I only have a short amount of time in a city I never try and see everything because it's likely going to be exhausting, expensive, and lead to disappointment if I can't fit it all in. A good tactic I've developed is to decide on around 3-4 sights and/or experiences and to take my time enjoying them. After all a city is much more than just a list of sights and monuments: it has an atmosphere, a way of life, and a whole bunch of interesting people that you're going to miss if you're rushing around seeing endless sights and taking photos all day. 
Colosseum
On the first evening before heading to my accommodation I stopped off at the Colosseum just to take a quick look, I'd been dreaming of seeing it for as long as I can remember so simply couldn't resist! It's very easy to locate the Colosseum via the metro, you simply travel to the stop 'Colesseo' and once you leave the station it's right there in front of you. 
As someone who has travelled a lot and seen some truly fantastic sights it can take a lot to leave me speechless, in fact I often find myself underwhelmed by many of the most famous sights because they have been built up so much beforehand; thankfully the Colosseum lived up to it's reputation and I spent a considerable amount of time just staring at it in awe. It was too late to go in but I sat across the road for a while because I didn't want to leave too quickly, it was well worth the detour!
The next day I met up with a Couchsurfer, Giuseppe, to explore Rome properly. Luckily as he lives locally Giuseppe was able to plan a route that would enable us to see as much as possible while remaining on foot and enjoying the sun. We met at the Colosseum (of course) where I discovered that on the first Sunday of every month all of the state museums and archaeological sites in Italy are free to enter, so it was free to get in. This is fantastic but it also means there are very long queues and that the sites are even busier than usual so take this into consideration if you aim to visit on one of these days.
Trevi Fountain (Fontana di Trevi)
Our next stop was the Trevi fountain, an absolutely stunning 18th century fountain, reaching over 26 metres in height and depicting the God of the ocean, Oceanus, riding in a chariot pulled by two sea horses. Rome is known for it's many beautiful and unique fountains, of which the Trevi is by far the most famous. I would recommend to aim to visit it twice, both during the day and at night time because the fountain looks very different based on when you view it. During the day the sun bounces off of the white surfaces and water blindingly, enhancing the fountains sheer size, while during the night lights placed in the water illuminate the sculptures from below creating a very different, more dramatic effect. 
In Europe there is a tradition of throwing coins into fountains, wells, and other bodies of water in order to bring good luck and there are no shortage of people doing this at the Trevi Fountain. The particular tradition here is to stand with your back to the fountain and throw the coin over your shoulder using your right hand; however by throwing a coin into the water at this spot you are not only ensuring your good luck but also that you will return safely to Italy again one day. The superstition further states that if you throw in two coins you will fall in love with an Italian, three and you will marry an Italian! I wasn't taking any chances though and only threw in one! 
While the Trevi is beautiful, unfortunately the area around it was absolutely rammed with tourists to the point of being uncomfortable. It was difficult to find a place to sit and relax and once we did our view was constantly obstructed by people getting up to take photos. This is the case for all of the major tourist attractions in Rome, especially during the summer and weekends, and is pretty much unavoidable if you visit. However in this particular case I was told if you can make it to the Trevi in the early hours of the morning around sunrise you are most likely to find it relatively empty. 
Food and Drink
Italy is famous worldwide for many things but arguably she is most famous for her fantastic food. As the day wore on with no signs of getting any cooler we decided to sample one of the best loved specialities- gelato (a particularly thick and creamy ice cream). We stopped at Gelateria Della Palma, just a few minutes walk from the Pantheon, an ancient temple and one of the best preserved Roman buildings, which meant we could fit our snack break around our sightseeing. Della Palma boasts 150 flavours of gelato including pretty much every flavour you can imagine and plenty you'd never even dreamed of. There, as in most Gelaterias, you choose how many scoops you want (each can be a different flavour if you like) and whether you want them in a cone or cup. Here I went for sesame and pistachio which were delicious; I'm not a huge fan of sweet things but I'm always happy to have a gelato, especially when the weather is so hot!
When talking about Italian cuisine it's impossible not to mention pizza which is of course now a worldwide phenomenon, although the 'pizza' you find in most places in the world is nothing like authentic Italian pizza and can't even begin to compare to it. Roman pizza is traditionally much thinner and crispier than the more familiar Neapolitan Pizza and most people have a firm favourite. If you meet someone from either of these cities and the topic moves on to cuisine it is quite likely they're going to ask you which you prefer with a mischievous grin- it's quite the divisive question! I personally much prefer the softer, more doughy Neapolitan style although I'm not sure I would admit that to a Roman's face! Either way, both are unspeakably delicious and you're going to regret it if you leave the country without trying at least one. Luckily good food is neither expensive nor hard to find in Rome and I would recommend seeking out a quiet, non-touristy Pizzeria by wandering around off the beaten track a bit. 
Spanish Square and Steps
Something strange I noticed about Rome (and later Italy in general) is that there are water fountains throughout the streets where you can fill your bottle with fresh, cool water for free. Some also have a pretty cool design perk- the spout has a hole midway up it allowing you to put your finger in the end and force the water to shoot out further up so you can catch it in your mouth. I was even more surprised to see that people were also using some of the historic fountains for the same purposes, a practice which I later found out goes back hundreds of years.  One of the more interesting fountains I witnessed this at was the Fontana della Barcaccia, literally the 'fountain of the ugly boat' in the Spanish square (Piazza di Spagna). The fountain was built in 1629, but the water in it flows from an aqueduct which is over 2000 years old so I was really impressed that this odd little fountain was still fulfilling this function. Tourists and locals alike were queueing up to walk along a little platform and either fill their bottle or drink straight from their cupped hands, one woman even had a mini shower! Well of course I took the opportunity to join in, the water tasted fine and I didn't get sick at all, which surprised me because if I drank water from a fountain where I'm from I would end up in hospital!
Just behind the fountain are the famous Spanish Steps, which are also well worth a visit at night when the area is lit up, they lead up to another square and the Trinità dei Monti church, so this is definitely an area worth fitting in if you want to see multiple sights in one go.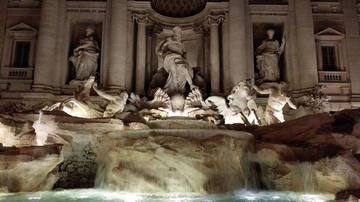 Other sights 
We finished off our day by walking through the gardens at Villa Borghese enjoying the street music, the vans offering coffee and pastries, and the shade provided by the trees. The gardens are beautiful and feature plenty of interesting botany and architecture, while the villa itself contains a gallery and museum. From the gardens there is a breathtaking view over the city with some of the taller monuments such as St. Peter's Basilica visible in the distance. After looking out over Rome for a while we headed down towards Vatican City, crossing the greenish waters of the River Tiber, past Castel Sant'Angelo and the Ponte Sant'Angelo bridge, which are the mausoleum of the emperor Hadrian and the angel adorned bridge leading towards it respectively. Here we reached the final stop of the day, Vatican City, where I went off to explore on my own and you can read more about here. 
Leaving
One final thing I want to mention about Rome is that everyone I met in my time there, from my Airbnb host and Couchsurfing meet-ups, to the man who took pity on me when the ticket machine wouldn't work and gave me one of his, was exceptionally nice. If it wasn't for the hospitality and generosity I received from the people I met there's no way I would have had such a smooth or enjoyable impromptu trip and this definitely contributed to the love I developed for Italy and the way of life in my time there! 
So there you have it, I might not have seen every sight in Rome, but I had seen everything I had hoped to in my short visit and I had had an unforgettable day full of good food, good people, and good times! What more could you ask for! In my opinion you can absolutely make the most a city in a short amount of time and still take things easy so if you ever get the chance to do so- just go for it!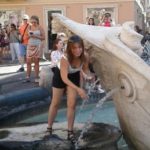 A freelance archaeologist and writer based in the UK. She works in dog care and training, run ultra marathons, and she is always travelling and looking for new adventures.